A Perfect Day in Hana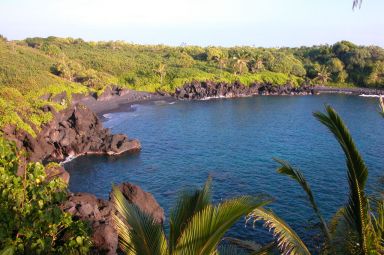 Chuck's plan to hit most of the best Hana highlights in the least time with no backtracking.
Leave Kihei or Lahaina by 7:30am
Follow the northern route to Hana. Highway #36 which changes into 360 half way there.
Drive straight through to the Hana Lava Tube (Ka'eleku Caverns) and do one of our self-guided tours. You'll see the sign for the Hana Lava Tube at the 31 mile marker. Turn left and go only four tenths of a mile to Ka'eleku Caverns.
Go one mile further to the BLACK SAND beach at Wainapanapa State Park. Swim in the ocean only if its calm. Or swim in the freshwater pool near their parking lot. There's a great hike on a trail leading from the left side of the black sand beach that winds along the most spectacular sea cliffs! (YOU NOW NEED PRIOR RESERVATIONS TO VISIT THIS SITE).
Drive two more miles to Hana town and grab lunch. There are 3 or 4 places to eat and two grocery stores.
Drive one mile past Hana to Hamoa Beach. Turn left on Haneo'o Rd, a mile past Hana. The first beach you come to is Kokee. It's usually rough, dangerous and there are rocks in the water. Round two more corners and look for Hamoa on your left. It's a beautiful white sand beach great for body surfing, and there are few rocks. You'll know you're at the right one if there are Hotel Hana Maui lawn chairs spread up and down the beach.
Jump in your car and drive another thirty minutes to Haleakala National Park. It's easy to find. There'll be signs, a parking lot near the road and lots of commotion. Head to the lower pool for one last cold water swim. Stay out of the ocean... too many sharks.
At this point, you are at the exact halfway point back to Kahului. You can either turn around and double back, or continue on around the beautiful Kaupo side of the island if your car rental contract allows it. If you break down out there a tow truck costs about $800, I believe, and you might have to pay it. If you lock your keys in your car anywhere near Hana, call East Maui Mechanics (Tim) at 808-248-8085. He's not always there, but it's worth a try.
NOTE: If you're here for only one day, don't try to stop at every single overlook and garden, or you'll never actually get to Hana. You can always hit them on the way back if you have time. It's a great idea to stay one night in Hana, or even two. This is the beautiful, lush, rainforest side of the island and by far the most scenic.
For more info on Hana - fun things to do, where to stay and where to dine - click www.paradise-found-in-maui.com/hana-maui.html

For more information:
Call:(808) 248-7308 8am - 8pm HST
Write:P.O. Box 40 Hana, Hi. 96713
Member of National Speleological Society * Hawaii Ecotourism Association
National Caves Association
Native Hawaiian Tourism and Hospitality Association